SUPERIOR AIR COND CORP

"We are familiar with the features and functions and recognize that it is a powerful and easily accessible tool provided by GEMAIRE to facilitate access to pricing, inventory, and specs. The website and APP were created with an intuitive, straight forward layout that is easy to use. It is particularly useful during non business hours, holidays, or when our preferred salesman is out of the office and we need to gather info/specs on our own behalf."

"On behalf of myself, and the rest of my team, I want to thank the team at GEMAIRE for all the support we receive from your end to help us work more effectively and efficiently."
Macchi Heating LLC

"I would like to give high praise to one of your Customer Support staff. Lori Pitt was extremely helpful in helping us track down a part we needed and being sure we were able to get it in a timely fashion. She was lovely to deal with, she did some research on our behalf, and she followed through as she said she would. It's very nice (and unusual) to find a customer support professional who exceeds your expectations."
Beacon Services

"So far, my experience with your Ecommerce division exceeds all of my expectations. I am very impressed and look forward seeing updates.
I can see Gemaire.com saving me time and money in three direct ways. First, I can research and price parts and equipment without the hold time of waiting for a counter representative. Secondly, I can visually see my parts before I order them so I can match my new part with my existing part. Lastly, the ability to price parts and find availability 24 hours a day will allow me to provide instant quotes for my customers, even on nights and weekends. This will all add to the excellence my company seeks to offer our customers."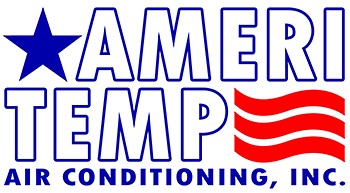 AMERI TEMP Air Conditioning, Inc.

"I think the web site will be of great help, I can order and look up information without having to call the store and be on hold and waiting for someone to help me. It will also be more efficient for our sales rep. he look up any equipment and place the order himself."
Service Star

"I love the e-Commerce method of ordering. It helps relieve the load on the branch people and/or sales people by sending over the internet exactly what I want and knowing what is in stock at each branch.
To call in a order to a branch we need to pick up the phone and find the branch phone number and then place a call. Every time it is answered we are put on hold, all branches not branch dependent. I have been on hold sometimes as long as 20 minutes and a few time disconnected. when it is finally answered we would have to go line by line. Sometimes a inventory problem will snag it and slow it down more while the representative searches other options, with online I can see the inventory and search other options if needed.
I have become efficient enough I can place a basic system order in under 10 minutes, much less than the hold time on the phone. The few times I have any difficulties I use the chat box at the bottom right and ask my question which is always answered fast and always offers a solution.
With a rating of 1 - 10 with 10 being the best I would rate the PHONE a 5, in person at the counter a 7 and E-commerce a 10 in speed and accuracy.
I hope I never lose it and enjoy learning with it as you improve the E-commerce system."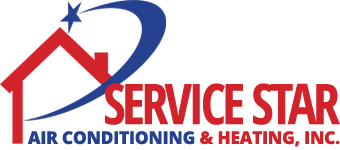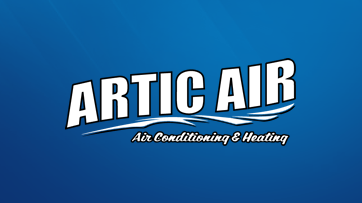 Artic Air, Inc.

"With the busy season coming upon us, calling in an order is a hassle due to being put on hold. Ordering online is easier because I can place the order, put notes in the memo and the local branch emails me a confirmation. If there are any questions they will call me. The time difference is huge! Takes 5 minutes to do an online order compared to up to 20 minutes for a phone order depending on hold times."
Warnky Heating And Cooling

System orders:
"For someone proficient on the computer, a system order, including install supplies, can be placed in around 5 minutes, if the user knows some or all of the part number(which would come with practice.) Once they are familiar with the site or have built templates, that can be cut down to about 3 minutes."

Stocking orders: "Once templates are established, stocking parts or install materials can be done lickitty split. The real time is the implementation for the contractor. With templates of commonly ordered items, orders could be placed in just a couple minutes vs. long conversations on the phone."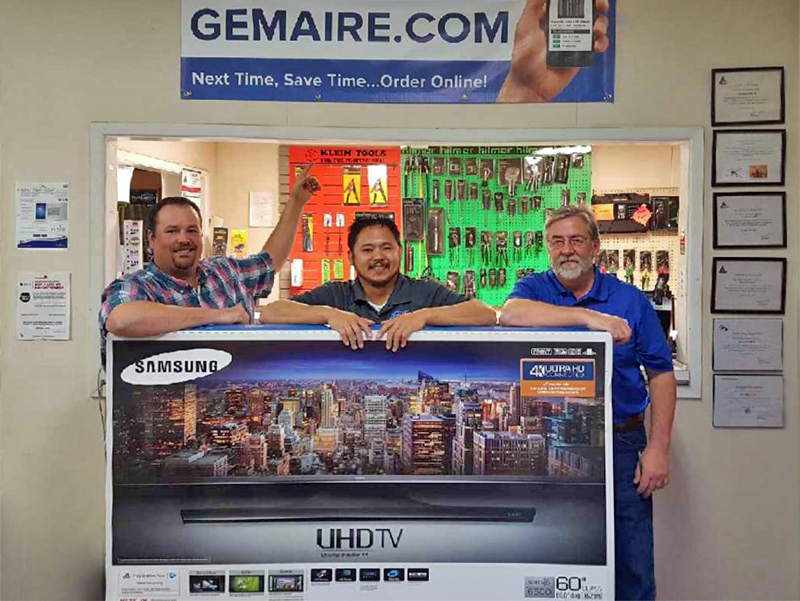 Nelson Bui with Arribba Heating and Air and his 60in flat screen TV he won.

"I love using Gemaire.com. It's easy and it saves me time. I appreciate this very much and would like to thank the guys at Gemaire Texarkana. Their customer service is outstanding!"
Pictured from left to right
Patrick McKamie - Gemaire Territory Manager, Nelson Bui - Arribba Heating and Air, Kirk Covert - Texarkana Branch Manager.
One Hour Air Conditioning & Heating

"Thank you for the Awesome website, This is making my job a whole lot easier and more convenient especially since I don't get to order until late sometimes. The inventory feature is great also so I can make decisions while ordering and when I order a complete job I have the total material cost of my job in front of me. Also I ordered a system on the site at 2 pm while my installers were finishing a job and the order was ready when they arrived at the branch at 3 pm."


Ocean Aire Conditioning Inc.

"The staff at Gemaire are extremely friendly and helpful. They are a daily part of our business and we praise them 100 fold for everything they do for us."
Beck Air Conditioning

"Saves time, love being able to build the templates, rarely talk to counter guys anymore. Great system, it's fast & my time is money."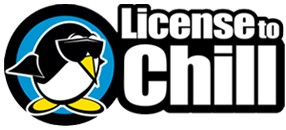 License to Chill Inc.

"Gemaire has helped us at License to Chill grow our business by living out your Mission statement. Our salesman Mark Kyger is AWESOME! The counter guys are always helpful and knowledgeable. Jay and Santos outside are terrific. Felix is a fantastic resource."
Hamilton Heat and Air

"The online ordering has been a nice upgrade, and prevents a loss of time when the supply house is busy. At Texarkana, Gemaire has one of the best groups of people on hand to help. They really do go that extra mile for their customers and I really appreciate them. Over this year my business with Gemaire and Rheem has increased over 40% and I attribute a large part of that to the Texarkana Team. Thanks for a great year,"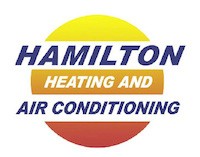 Air Care Heating and Cooling, Inc.

"The system saves time and lets me see what products are quickly available at my branch. "
Sharkey Air, LLC

"As an avid user of ecommerce, I was very impressed with the easy navigation of the website. The way the site will suggest system combinations as well as accessories for each system allows very little room for error when placing an order. The best feature is the ability to build a template for frequently placed orders."


Wilson SVC CO HEATING AND AC

"Order online is convenient and easy. I can do it at night or early in the morning before the branch opens. It is extremely valuable when doing estimates and checking current prices."
Aloha Air Conditioning, Inc.

"Best thing ever."


LYNCO HEATING AND AIR CONDITIONING CO.

"Gemaire.com is great!"
HALLS HEATING AND AIR

"Yes works great to quickly get prices."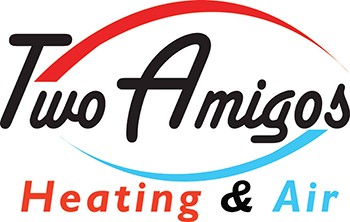 TWO AMIGOS HEATING AND AIR, LLC

"I have found the online site quick an easy when ordering equipment online. I like being able to quickly see if the equipment that I want is in stock at my local branch."
GLENN I JONES, INC.

"Love online ordering"
MARTINEZ AC AND HTG

"Gemaire.com is very helpful!"
ROWE HEATING AND AC

"Ordering online is quick and easy. It also speeds up the process at the branch. And sometimes prices are better online. It is also an easy way to check stock at a particular branch."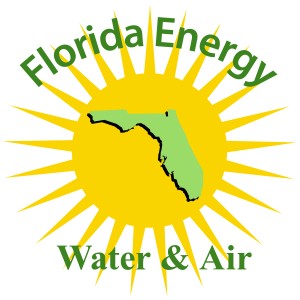 Florida Energy Water & Air

"Gemaire.com is absolutely astonishing! It's so business friendly and responsive. Before I was aware of the system, we were existing in a world of being put on hold and would be delayed for over 30 minutes just to place my order. It has simplified our ordering process and most of all, saved our office 2.5 hours a day in labor. Unquestionable this has been an immense key to our success"
Lodi Services Heating & Cooling

"I've used online ordering for 15 years (other distributors) Its faster and more convenient than waiting for a counter salesman to help you. I'm surprised more dealers don't use the online option."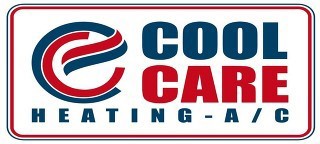 Cool Care Heating & A/C

"The part I like the most is being able to order equipment instantly from my phone in 5 minutes for most instances."
SunAir Cooling Corporation

"Our Hollywood branch manager Keith Keller has been very instrumental with our online orders to pull the AC systems in advance. This procedure is so beneficial in improving productivity and installation times."


Air McCall, Inc.

"Gemaire.com is well organized and easily to understand. Well Done! "
OZONE AIR DESIGN LLC

"Yeah . Very convenient."

Airstar, Inc.

"The branch we use 99% of the time is Riviera Beach they are really great and do the best job they can for us."
Cool Control, Inc.

"Yes. Very convenient and accurate"


Acutemp AC and Appliances Inc

"Our rep Mike Lloyd is the utmost professional we are thankful for him "
W&G A / C Service, Inc.

"Yes we are very pleased with the online ordering service."


B AND B UTILITY SERVICES LLC

"I have ordered from Gemaire and am very pleased with the service."
PALMERS HEATING AND AC LLC

"A nice easy online experience!"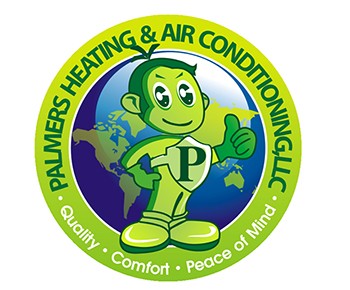 Kimball Enterprises, Inc.

"Ordering on Gemaire.com has made our company time more efficient. Each location shows their inventory. You do not have call and wait on hold to find out, if the store has the item in-stock. You can put an order through the web site, and when you arrive the order is ready to go."
AIR 360 HEATING AND COOLING LL

"We have computers in all our service and install vehicles and we all use ecommerce to place all system and large parts orders everyday and have had great success tracking and monitoring our purchasing."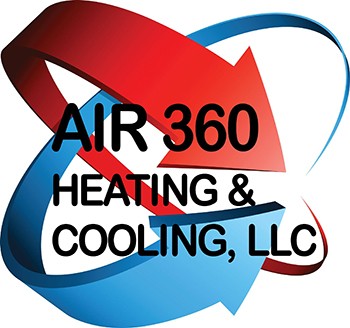 Service Experts LLC

"Ordering online is quick and easy, it saves time and money."
SAN ANTONIO INDUSTRIAL SUPPLY

"Site is very easy to use and Inventory is accurate."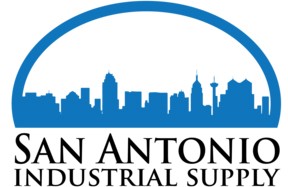 TROY HEATING AND AIR

"Gemaire's website is concise and easy to use. Gemaire is much more user friendly than the competitions websites. Keep up the good work. "